NE PERDEZ PAS VOTRE TEMPS A LIRE CET ARTICLE, ALLEZ ECOUTEZ N'IMPORTE QUEL ALBUM DE CETTE LISTE 
AVANT QUE 2008 NE SE TERMINE !

De toute façon, comme vous allez le remarquez, je n'ai pas fait de commentaires. 
1) Absolument pas de temps, je dois profiter de cette dernière journée de l'année pour faire tout ce que j'ai pas eu le temps de faire : faire du deltaplane au dessus de l'Océan Indien, escalader le Killidmanjaro déguisé en pénis géant, ce genre de choses...
2) Le mieux c'est toujours d'écouter. 

Bref, voici un classement totalement subjectif et superficiel des albums qui ont illuminés mon année 2008. Bon allez, va crever 2008. T'étais bien gentille, mais on commence à se lasser là, va falloir laisser la place. Sans rancune !

Nous, on se retrouve l'an prochain (demain je pense). Alors n'hésitez pas à vous saoûler jusqu'à la mort pour enterrer 365 jours de caca. Allez, je vous laisse, y a une montagne qui m'attends !

1. ADAM GREEN "Sixes & Sevens"



2. GIRLS IN HAWAÏ "Plan Your Escape"



3. OKKERVIL RIVER "The Stands In"



4. ALBERT HAMMOND JR "Como te Llama?"



5. BON IVER "For Emma, Forever Ago" 



6. NOAH AND THE WHALE "Peaceful, The Word Lay me Down"


 
7. FLIGHT OF THE CONCHORDS "Flight of the Conchords"



8. THE DODOS "Visiter"



9. CHRIS GARNEAU "Music for the Tourists"



10. I'M FROM BARCELONA "Who Killed Harry Houdini?"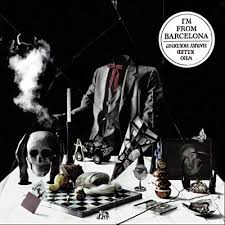 11. JIM NOIR "Jim Noir"



12. FLEET FOXES "Fleet Foxes" 



13. VETIVER "Thing of the Past"



14. RAY LA MONTAGNE "Gossip in the Grain"